As a service for our school families, St. Joseph has teamed up with Educational Products, Inc. to supply our students' school supplies for the 2023-2024 school year. Individual , grade level packs purchased through EPI will be delivered to your child's classroom and will be ready for the first day of school. If you wish to purchase your supplies on your own (see the grade level lists below), please make sure to bring all supplies to school PRIOR to the first day of school! The office is open M-F from 9:00am - 3:00 pm beginning August 2nd, 2023.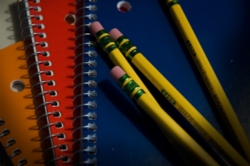 In addition to the supplies for the classroom, each student (1st-8th grades) is required to have an SJCS zippered pencil bag. These pencil bags are large, leather, and durable. The cost for each pencil bag is $10 and is available for purchase in the school office and at the Back to School picnic in August. They are printed with our school logo and have a space for your child's name.
**Returning 2nd - 8th grade Jaguars --- This is a reminder to keep your SJCS maroon pencil bag in a safe place over the summer. Bring it to school in your backpack on the first day of school in August!
Parents of Middle School Students:
Please note that all Middle School students have a couple of additional requirements in addition to school supply list.
All middle school students should have a flash drive (at least 16GB - 65 GB).
PE uniforms are encouraged but optional. Students are allowed to change from their school uniform to the PE uniform (shorts and shirt) before each PE class. Most find it more comfortable to run and play in shorts vs uniform. PE uniforms can be purchased online at our SJCS spirit store.
All middle school students are assigned a locker. Locks will be distributed by their homeroom teacher. A locker shelf is included in the 6th grade school supply list. These are used through 8th grade.

Please feel free to contact Jennifer Basham at jbasham@sjcstx.net, if you have any questions regarding school supplies for the 2023-2024 school year.